Registration & Examination Fees Details
6 Months Certificate Course in Ceramics, Refractories, Glass, Advanced Ceramics & Cement Technology
Registration Fee – INR 2500/- Valid for 3 years
Examination Fee – INR 500/- per paper
Study Material & Tuition Fee – INR 24000/-
Total Fees – INR 29500/- (You can pay the fees in installments i.e. INR 4999/- per month)
1 Year Certified Manager Course in Ceramics, Refractories, Glass, Advanced Ceramics & Cement Technology

Registration Fee – INR 2500 – Valid for 3 years
Examination Fee – INR 500/- per paper
Study Material & Tuition Fee – INR 40000/-
Total Fees – INR 46500/- (You can pay the fees in installments i.e. INR 3875/- per month)
Bachelor Degree Course in Ceramics / Refractories / Glass
Registration Fee – INR 7500 – Valid for 5 years
Examination Form Fee – INR 500/-
Examination Fee – INR 1500/- per paper
Study Material & Tuition Fee – INR 3500/- per paper
Candidates desirous to appear in the Examination of 6 Months / 1 Year / AME Course should submit their applications in the prescribed form along with a non- refundable registration fee as mentioned above to register their names for subsequent examinations.
At present Examination for 6 Months and 1 Year Certification Course is held online and students can appear online examination from their place.
For Degree Course Examination is held once in a year at some selected places in India like Kolkata , New Delhi , Bangalore , Khurja etc depending upon the number of candidates .
All the fees will be effective from 1st January, 2023.
NOTE : All payments may be made either through Bank Drafts drawn in favor of "PRANAMIKA EDUCATION TRUST" payable at Vadodara or through Bank Transfer as mentioned in the form.
You can pay your fees through UPI by scanning the given QR code
After making the payment, please share the payment details and your Name and Mobile number by E-mail : iicst.vadodara@gmail.com
Scan QR code to Pay ->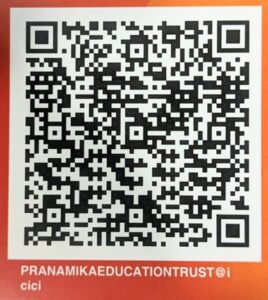 Results will be communicated to the candidates individually within three months from the date of completion of the examination.
Syllabus, Prospectus, Prescribed forms for application and other details of examination available from the office of the Imperial Institute of Ceramic Science and Technology, Vadodara against payment of INR 1500 only.
To obtain forms and syllabus, please pay Rs. 1,500/- through Bank Transfer or UPI.

After making the payment, please share the payment details and your postal address by E-mail : iicst.vadodara@gmail.com
Scan QR code to Pay ->